The Importance of Conducting Focus Groups Before Game Development Begins
I can't talk enough about the importance of conducting focus groups with your target audience before delving into game design and development.
As part of the play2PREVENT team at Yale, I've been conducting focus groups with youth and young adults aged anywhere from 5 to 25 over the past nine years. Input from focus groups have served to inform the development of all of our games, including the risk reduction videogame, PlayForward: Elm City Stories, the humorous, sexual risk reduction card game, One Night Stan, the math game, Knowledge Battle, and our tobacco prevention videogame, smokeSCREEN. It only makes sense to me that we would continue this essential practice at the play4REAL Lab to inform the development of our VR game, smokeSCREEN VR.
During the month of November, we conducted three focus groups with adolescents from the New Haven area. We asked questions to get at their attitudes and perceptions of e-cigarette use and social pressure. We asked about their opinions on teens that use e-cigarettes, what they knew/didn't know about vaping, why they believed teens vaped, and what the consequences were to getting caught for vaping at school (or by their parents!).   To better understand social pressure, we asked teens what it might feel like to be pressured into doing something they didn't want to do, how they would respond to get out of situations, and what they believed the consequences and/or rewards to giving in to social pressure.
From the focus group transcripts, we created a short report on the responses we heard and themes that emerged from our discussions with teens. We also included quotes and a list of common terms or phrases the teens used, which will be used to inform the content and narrative in the game. The report we generated was given to our game development team, PreviewLabs, and was reviewed during our initial brainstorm meeting last week. As we move forward in our game development, we will continue to bring our story ideas, use of mechanics, and the language we use to teens for feedback. Our ultimate goal is create a game for teens, about teens. And we can't do this without constant feedback and input from teens!
Another bit of advice I would give to those interested in conducting focus groups to inform your game design (aside from bringing pizza), is to try to think of creative ways for teens (or anyone really) to express their ideas to you. For example, we know teens spend A LOT of their time on social media and communicate mostly via text messaging. As a way to capture what social pressure might look like in the form of text messages, we asked teens to create text conversation examples using a template we provided.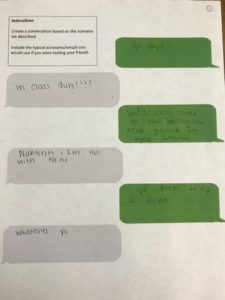 To read more about focus groups can inform the process of developing a videogame intervention, read here.
In our next blog, we will talk about our first brainstorm session with PreviewLabs, and our development of the project's Game Playbook, which will help guide the development of the game with a focus on learning/transformational goals and our research outcomes.